Previously I discussed the world's top electric companies other than tesla. But I didn't talk about the competition. This is because I was not sure about them. After all, they are not presenting themselves as bold as tesla did. But now here I am talking about the Indian electric car as well as the company, which is way more than those companies. Also, it will surely a challenge for the company Tesla motors. I am talking about Bengaluru based company Pravaig Dynamics and its first-ever car Pravaig extinction MK1.
about Pravaig Dynamics
Pravaig Dynamics is an Indian electric car company. Recently they introduced their very first model i.e. Pravaig Extinction MK1. And that car amazes everyone with its features. CEO of the company Siddharth Bagri said that this car is a true made in India car. Whenever we talk about make in India or made in India, we thought that everything in the product is made in our country. But that is not the scene. Somehow we failed to manage the things to make in our country due to final cost management. But this company do some great work. Almost 90% of the vehicle is made in India and only 10% is imported. And sooner they will reduce this percentage of import too. Marvellous! is it?
Pravaig Extinction MK1
This car is two doors, four-seater sedan car or a D-segment car. It looks like an intelligent blend of Mustang GT and Lamborghini. The design and backside indication system of the car reflects its name Pravaig which means Acceleration.
The company claimed that the car can go 504 km on a single charge with 150 KW power output. Whereas, the top speed of the car is 196 KM/H. And it can achieve a 0-100 KM/H mark within 5.4 seconds. Its battery technology is also top-notch. The battery claimed to be charged from 0-80% in just 30 minutes. And that 80% equals to approx 400 km in range.
Pravaig Vs top EV car companies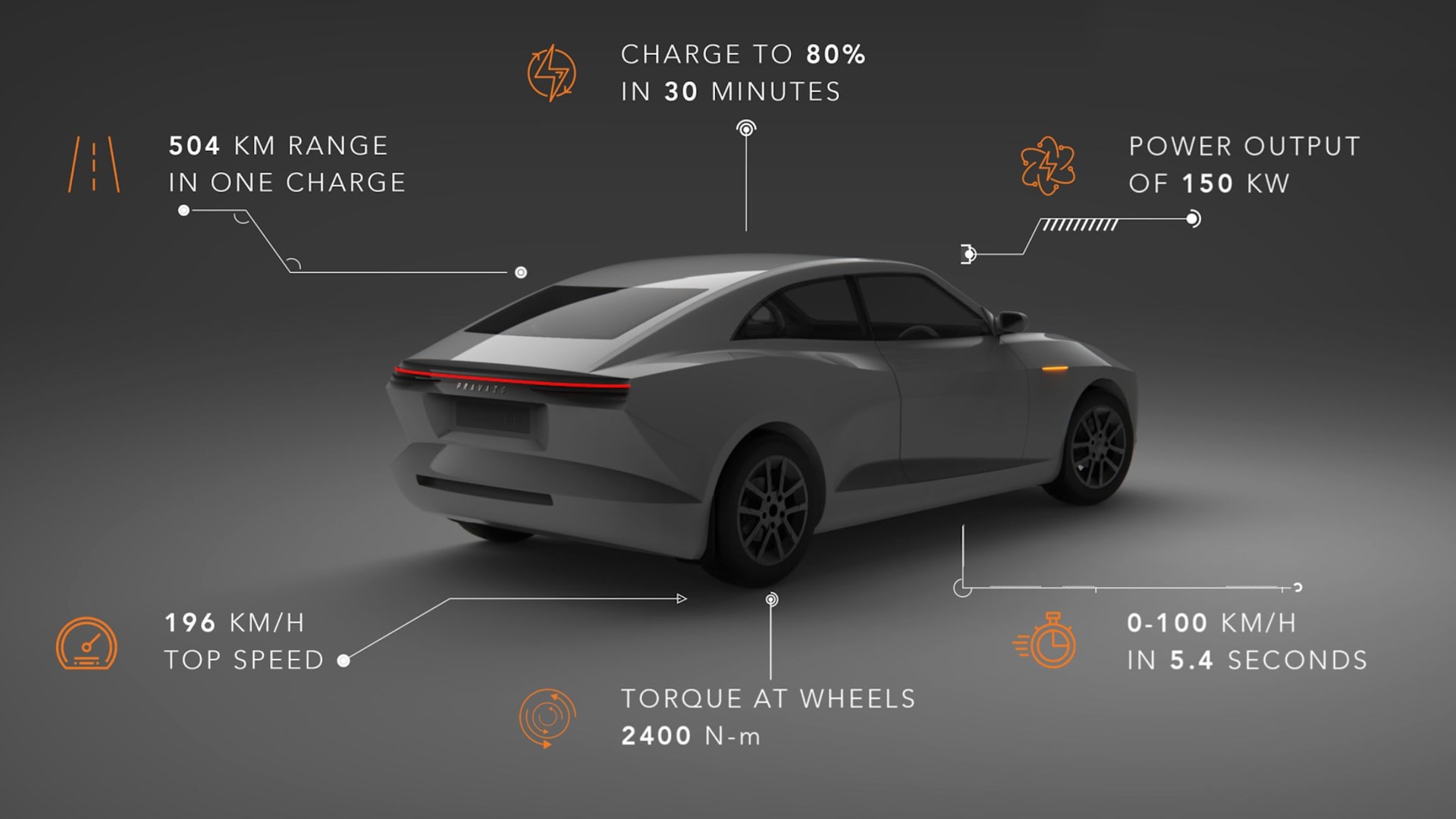 The competition with the top EV makers is not that easy. But Pravaig performs much more than expected. Pravaig Extinction MK1 can go 504 km in a single charge. It is greater than Hyundai Kona and MG ZS which is 450KM and 340 KM respectively. And Tesla Model 3 is a little more (507KM)  than Pravaig. So it is a proud moment for us because it is an all Indian company which is performing like this.
What makes this Indian electric car so unique?
With all the best features, the company has some other things that make it unique. CEO of the company Siddharth Bagri told that this is a prototype and it is on road for testing. Even he is driving this car himself for testing purpose. After the testing, they plan to launch some other units. And that will be available as a cab for big cities. This is a prototype and in November 2021, they are starting the production of the commercial unit MK2. Siddharth said that this model will be as luxurious as the Mercedes Benz S-Class. Also, the company ties up with architects, interior designers, fashion designers for cabin designing.
The company planned to produce its 2500 units in the first year. However, I think that they can not start the production in November because of COVID-19 and the global chip shortage. The price of this upcoming car is not announced but it is expected that it will be 30-35 lakhs INR. Still, it is lesser than its competitors. So we can say that it is the next big thing in the EV industry. And it will blow everyone's mind if the company can make it to the productions. Welcome, Pravaig!
If you want to know more about upcoming electric cars in India then go to our article Upcoming electric cars in India: Luxury Cars and Cheapest electric cars in India: Our honest review.